What's A Day In The Life Of A Recruiter Like? was originally published on WayUp.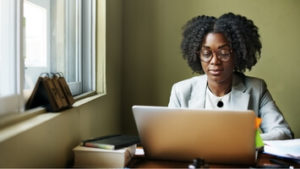 Wondering what the day-to-day work of a Staffing Recruiter looks like? The truth is, no two days are exactly the same.
Staffing Recruiters have the challenging and rewarding job of recruiting amazing candidates to work for their clients. They're involved in the entire candidate recruitment process from start to finish, making sure everyone they work with has a great experience—whether or not they get the job.
To get a better sense of what a Staffing Recruiter does throughout the day, we talked to top staffing services firm Apex.
Morning Team Meeting
Staffing Recruiters at Apex kick off each day with a team meeting where everyone shares their daily goals. The purpose? To hold everyone accountable for their work (and provide support if needed).
Time For Calls and Emails
After their morning meeting, Staffing Recruiters at Apex get to work. This includes cold-calling potential candidates, following up with existing candidates by email or phone, and checking professional references for candidates in the final stages of interviewing.
Meeting With Account Managers
Account Managers learn their clients inside and out and work together for a team with Recruiters, though they have individual goals. The more Account Managers know, the more effective they are at exceeding their customers' business needs. That, in turn, enables them to better inform their Recruiters on what kinds of candidates would be the ideal fit for those businesses.
Onboarding Activities
Discovering that a candidate you're working with got the job is one of the most exciting parts of being a Staffing Recruiter. When that does happen, you'll get to help prepare the offer letter and oversee any additional paperwork—and of course celebrate your success!
Connecting with Past Placements
Relationship-building is at the heart of being a Staffing Recruiter. Because of this, your job doesn't end once you place someone in a role. To make sure their clients are happy and thriving, Staffing Recruiters might check in via phone or schedule lunches and/or coffee dates to stay in touch.
This is just a sample of the day-to-day experiences you'll have as a Staffing Recruiter. Depending on where you work, you might also spend some time in trainings to improve your soft skills and learn more about the industries you're recruiting for. Recruiting may be a competitive field, but it also offers room for personal and professional development.
Does this sound like a job you'd be excited to do every day? Well, you're in luck: Apex is hiring on WayUp now!
The post What's A Day In The Life Of A Recruiter Like? appeared first on Career Advice & Interview Tips | WayUp Guide.