Business Career Fairs and Mixers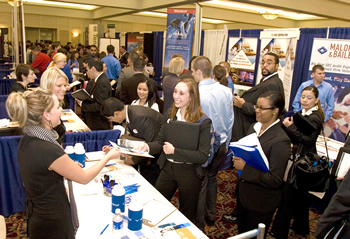 The Business Career Fairs in the Bauer College of Business occur each Fall and Spring semester on the University of Houston campus. Please note that the career fair is intended for Bauer business majors only.
Employers interested in attending these events should:
Access the Recruiting Events link in their Bauer Career Gateway account (create account first, if necessary)
Register for the event(s) in which they are interested
Each Fall and Spring semester, we offer major specific networking events called Pre-Recruiting Mixers. At the mixers, employers can network and meet with students pursuing specific majors, and who are actively seeking internships and/or full-time positions. Typically, the mixers occur on the same day, with one in the morning and one in the afternoon, and take place the week prior to classes beginning. The setup is geared towards networking as each registered employer receives one cocktail sized table. Please contact a member of the Employer Services team for more details.
In September, the C. T. Bauer College of Business Rockwell Career Center hosted their Fall Career Fair, where students had the opportunity to meet with over 140 employers.